OpenCommunityFree Version
The AquaStation.eu OpenCommunityFree is a completely free version available to anyone who wants to try with a little experience of Raspberry Pi and Linux world.
Differences between the OpenCommunityFree version and original one:
 

 

AquaStation.eu

OpenCommunityFree

 

 

AquaStation.eu

 

User interface web based http/https with all functionality

Temperature probes management
 
 
Flooding probes management
 
 
PH management
 
 
220v lines management
 
 

PWM LED Dimmer management with Hypernatural capabilities (real-time playback of biotopes, of sunrise and sunset times and weather conditions)

 
 
PWM pump management
 
 
Touch and normal Display management
 
 
Energy consumption management and analysis
 
 

Hardware (circuits, wiring, chassis, modules, components, etc.)

To be realized, you'll find on this page every instruction to create your modules and your AquaStation.eu

Finished product and ready to use

Warranty and technical support via email / phone

Only by CommunityForum in English

3 years, extensible, FullService 

AquaStation.eu Cloud with support for mobile device

 

Automatic update

Experimental updates with new features

 

Only updates classified as Stable

Forum Banner (signature with real time values of its own AS)

Updated every 60 minutes

Updated every 5 minutes

Android App

On reaching 5000 AquaStation.eu OpenCommunityFree

User manual Italian / English, CE and RoHS certification on each component, manuals of individual modules and additional documentation.

 

Banner ads

For now no banner but we might need if the donations did not conver the development costs of this version

No ads banner
There are few rules to follow, we have invested heavily in this project, both in economic and man hours, therefore the code can not be reproduced, even in part, without express authorization. The AquaStation.eu OpenCommunityFree can not be used for commercial purposes (breeding tanks, public aquariums, shops, etc.) or in any field other than the private domestic use. It's absolutely forbidden to resell or draw any economic benefit from AquaStation.eu OpenCommunityFree (it's free and should remain so). Any donations are welcome, we guarantee that we do not offend.
The pro system modules in the store, can be connected to the OpenCommunityFree system.
The support of OpenCommunityFree system could be interrupted at any time, according with its spread. Partecipate in spreading this initiative, though we are many, we will justify the maintenance work of this free version. 
Register and go to the Forum (English) to continue (under construction, stay connected, we expect to release the free version for December 2016)
Language
Search
More Info
Who are you and what I'm buying?

Demo Area and Cloud
FAQ
Orders and Contacts
Channels
(You can find in competitions and prizes to win AquaStation Base or Optional Accessories)


YouTube

[Italian Channel, EN coming soon]

About Us
AquaStation.eu launched its product testing into the sea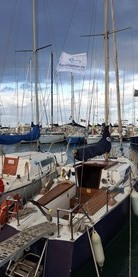 What better way to test the reliability of the products into the sea weather? Thanks to a small boat adapted for that purpose, will be made a series of tests both winter and summer, it will soon be possible to access and view the values of a AquaStation working in sea water!
Quale modulo opzionale vorresti che il nostro team di sviluppo realizzasse?
Densimetro elettronico per l'analisi della salinità - 41.9%
Gestore e dimmer per pompe di movimento e maree - 9.3%
Pompe peristaltiche dosatrici - 18.6%
Mini UPS in grado di avvisare via email e mantenere acceso l'AS in caso di assenza di corrente - 9.3%
Display touch screen - 7%
The voting for this poll has ended
---